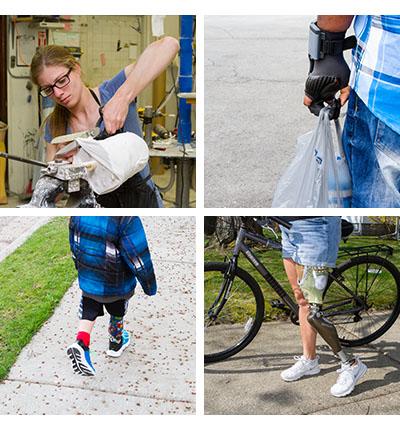 At Comfort Prosthetics & Orthotics we design and develop comfortable, ultra-light weight prosthetics; all of our devices are fabricated onsite by experienced professionals in our laboratories.
Whenever we meet, it is all about you...our experienced ABC certified O&P professionals have the knowledge and attentive care that will lead you to successful prosthetic rehabilitation.
We meet our patients in the office, at the hospital, in their homes or any other clinical setting; we provide continuing care, even from before the amputation when possible; we custom fabricate every device so that it fits you comfortably and functions efficiently.
To assure the highest quality of care, all of our practitioners are required to continue their education throughout their careers. As a result, we hold numerous certifications in microprocessor prosthetics, myo-electronics, modern socket designs, bionics and other advanced componentry.
We love challenging cases, where there isn't a standard answer, we love to create custom solutions in our laboratory whenever possible.
WE ACCEPT MOST INSURANCES. HAVE A QUESTION? CALL US AT 586.468.4600
Prosthetic Services
Free Home/Hospital/Clinic Evaluations
Immediate Post-Surgical Care
Pre-Prosthetic Care
Removable Rigid Dressings
Temporary (Training) Prostheses
Endoskeletal Prostheses
Exoskeletal Prostheses
Upper Extremity Prostheses
Lower Extremity Prostheses
Hip Disarticulation/Hemipelvectomy Prostheses
Myoelectric Prostheses
Microprocessor Prosthetics
Whatever prosthetic ambulatory solution you may need!
Orthotic Services
Free Home/Hospital/Clinic Evaluations
Ankle-foot-orthosis (AFO) - all custom ankle bracing needs
Knee-ankle-foot orthosis (KAFO) - all custom knee bracing needs
Hip-knee-ankle-foot orthosis (HKAFO) – all custom hip bracing needs
Pediatric Orthotics
Fracture Bracing
Spinal Orthotics
Cranial Molding Helmets
Upper extremity solutions
Myo-electronic bracing solutions
Whatever orthotic ambulatory solution you may need!