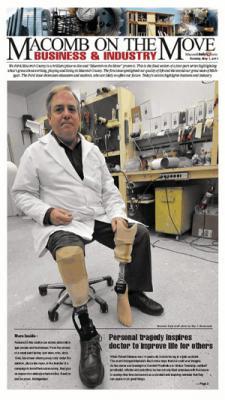 The story of Comfort Prosthetics begins with Bob Maniere, a below knee amputee since the  age of 15.  Bob's first experiences with prosthetics were hardly satisfactory; his first prosthetic was too painful to wear, and his prosthetist had no sympathy, instead of trying to find a better way, he simply told Bob that he would have to live with the pain.  Not finding this answer satisfactory, Bob went about learning the business for himself...
Bob's Story.
1974 - Bob loses his limb while jumping trains with friends.
1978 - Bob's story is discovered by Institute for the Advancement of Prosthetics, he learns to three-track ski, becomes an instructor.
1978 - Bob enters the University of Michigan Prosthetic Technician Program, he graduates in 1980. Eventually becoming a CPO, CPed & FAAOP.
1980 - Bob goes to work for several different prosthetic companies, quickly moving through the ranks with a superior attention to detail.
1984 - Bob starts his first prosthetics business, and begins building a thriving, happy client base of successful amputees..
1995 - Bob takes management position at large regional prosthetics business, he finds the corporate mentality doesn't suit him.
1999 - Future.. Bob's vision is brought to life with Comfort Prosthetics; bringing high quality patient care and comfortable, functional prosthetics to amputees throughout the United States.