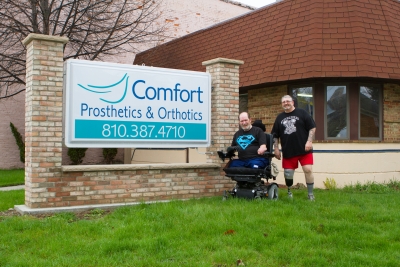 Comfort Prosthetics & Orthotics began in 1999 when Robert Maniere Jr. CPO, CPed, FAAOP created a custom prosthetic & orthotic firm that would strive to achieve the highest prosthetic standards, innovate prosthetic solutions, and commit itself to successful patient outcomes. 
Specializing in custom prosthetic & orthotic devices, Comfort Prosthetics & Orthotics custom fabricates each prosthesis/orthosis in house, to meet the individuals needs, and to encourage an active lifestyle.  At Comfort we integrate bionic technologies with custom built craftsmanship to produce superior prosthetic & orthotic devices. 
Are you looking to do a specific activity?  Schedule a consultation, we have built many sport-specific devices for golf, bicycling, riding motorcycles, swimming and running.
Worried about looks?  We can customize your device to look any way you want it, and we love being tested...
At Comfort Prosthetics & Orthotics you can be sure that we will take the time necessary to achieve a comfortable fitting prosthesis for your upper or lower extremity. We guarantee a prosthetic that feels great and that you can use in your everyday life.
We are an independently owned ABC Certified Facility in Prosthetics and Orthotics in Mount Clemens and Yale, Michigan, however our patients range in location from Arizona to Florida, Africa & the Dominican Republic, and all over the great state of Michigan.
WE ACCEPT MOST INSURANCE. HAVE A QUESTION? CALL US AT 586.468.4600