Controlled by Simple Gestures
news_image: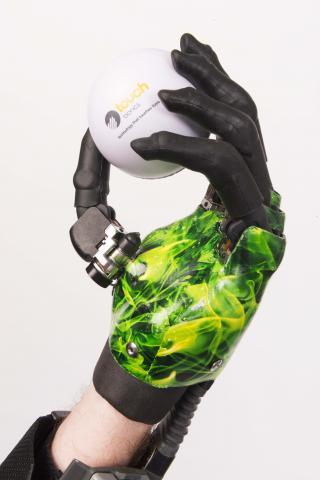 San Antonio, Texas – October 8, 2015 – Touch Bionics, a provider of world-leading prosthetic technologies, today announced a significant advance to the company's range of bionic partial hands at the American Orthotic and Prosthetic Association's National Assembly taking place in San Antonio, TX. The i-digits quantum incorporates the company's patented i-mo™ technology and is the first partial hand prosthesis that can change grips with a simple gesture.
"We are pleased to introduce i-digits quantum at the AOPA National Assembly," said Ian Stevens, CEO of Touch Bionics. "With newly redesigned componentry and digits for ease of fabrication, the new partial hand combines streamlined styling and considerably enhanced functionality. It is smarter, faster, stronger and smaller than its predecessors. i-digits wearers can quickly utilise the many grips available through the activation of gesture control using our i-mo technology embedded in every i-digits quantum."
"i-digits quantum is the most advanced partial prosthesis available today for individuals with missing fingers," said Moses Aramburo, i-digits wearer. "I particularly like the gesture control feature which enables me to quickly access many grips in performing everyday tasks. The new design is not only slimmer but also lighter allowing me to easily wear my prosthesis all day."
i-digits quantum – key enhancements
Smarter - gesture control powered by i-mo™ technology uses simple gestures to change grip;  bluetooth enabled grip chips™ activate pre-set grips in proximity to i-digits
Faster - adjustable speed boost increases speed by up to 30%
Stronger - up to 30% more power when needed; improved component design for easy and reliable fabrication; 50% longer battery life
Smaller - new form fitting anatomical design reduces size profile in every dimension; smaller digits now available
Touch Bionics is located at booth #541. Live product demonstrations with users and staff experts will be held every hour during the AOPA conference.
About Touch Bionics
Touch Bionics is a provider of world-leading prosthetic technologies designed to achieve positive outcomes for people with upper limb deficiencies. Touch Bionics was the first company to develop an electrically powered prosthetic hand with five independently powered fingers and the company continues to be a pioneer in upper limb prosthetic solutions. The company's products include electronic prosthetic hand and prosthetic finger solutions, as well as passive silicone prostheses that closely match the natural appearance of the wearer.
A spin-out from the UK's National Health Service, Touch Bionics was founded by inventor David Gow and is funded and supported by Archangel Investors Limited and Scottish Enterprise.
Photo Credit: Touch Bionics